** DEPRECATION NOTICE **
This feature is scheduled to be replaced by an enhancement allowing the capture of data using many different field types (including check list items).
These activity task fields can be used to define alternative outcomes that determine the conditions under which a transition is available.
See Activity Tasks and Task Outcomes (Using Task Outcomes to Prevent Completion of the Activity) for full details.
Editing an activities check list items
To edit an activities check list items, double click the activity shape and then edit check list items.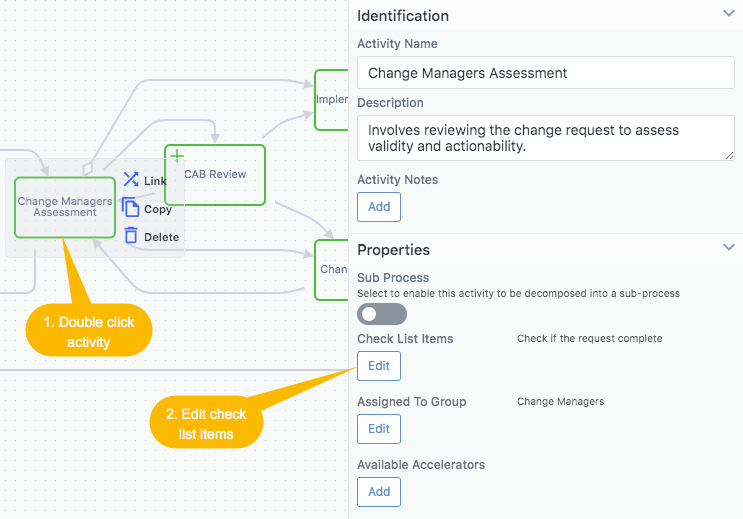 Activity check list items are a list of aide memoire (memory joggers or reminders) which appear on an activity as reminders of things that the agent should do or think about. There is nothing formally recorded on the ticket about each check list item, but the agent needs to acknowledge that they have considered the check list item before the activity can complete.
Double click the activity shape and then click the add (or edit if check list items already exist) button to edit check list items. A modal is displayed in which check list items can be edited.

Edit the name or description of any existing check list items. Click Add to create a new check list item. You must supply a name, the description is optional, but is used as a tooltip at runtime to give more detail about the check list item. Click the cross at the right end of a check list item to remove that item from the list.