*PLEASE NOTE: This extension is not considered part of the general product release.
It has been developed for use by customers with a need or desire to emulate the display of Next SLA Breach data in a Zendesk view, using the ticket fields populated by the CloudSET SLA service.
The extension will only function if and when installed locally as a private extension, by agents using the Google Chrome web browser, which must be switched to "Developer mode" for the extension to run.
and there are currently no intentions to provide a similar capability for use by alternative browsers.
It is our recommendation that customers should encourage agents to make use of the CloudSET SLA-M Dashboard which has been provided as a replacement to the limited functionality offered by standard Zendesk views.
The extension has therefore been made available on the above basis, for installation and use by and at the discretion of customers of the CloudSET SLA service.
Use of CloudSET SLA Measurements and Metrics in Zendesk Views
The CloudSET SLA-M Dashboard provides a tool that can be used by your agents and admins to manage, organize and monitor ticket queues, in a mode that will maximise the opportunity to meet the SLA for all tickets raised in your Zendesk.
However, depending upon the number and type of ticket and the way in which your agents operate, it might be necessary to make use of standard Zendesk views for this purpose. For example, when there is a short amount of time to respond to each ticket, requiring a need to make use of the Zendesk Views Play feature, to rapidly work through the ticket queue.
In this case the CloudSET SLA service provides a number of ticket fields holding various measurements that can be introduced as view columns (see Monitor and Measure SLA Performance in Views and Reports).
The most useful of these ticket fields are the SLA Next Event Name and SLA Next Event Timestamp, since these show the date and time of the next event requiring action for each ticket.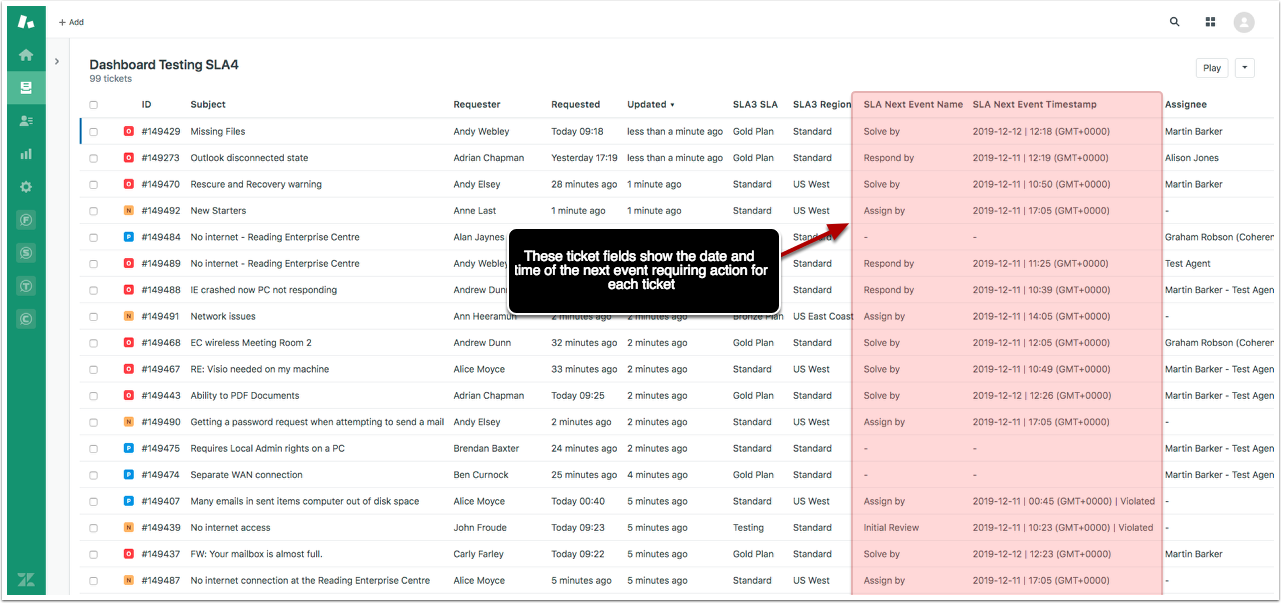 Displaying the Next SLA Breach Data as an Icon in a View
If you are using the Google Chrome web browser to process your Zendesk tickets, it is possible to install an extension to convert a view in which the SLA Next Event Name and SLA Next Event Timestamp, are represented as an icon showing the status colour and duration in a single column.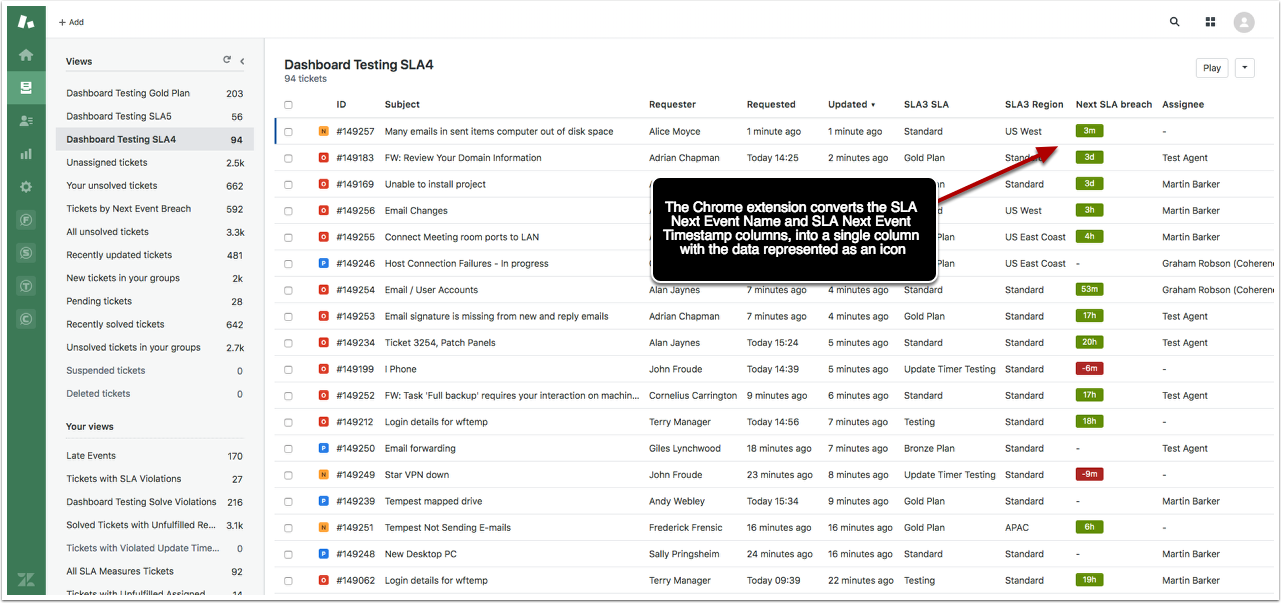 The following video provides instructions explaining how to install and use the extension:
Select the link below to download the download the extension.