Edit transition comments
To edit transition comments, double click the transition link and edit the comments.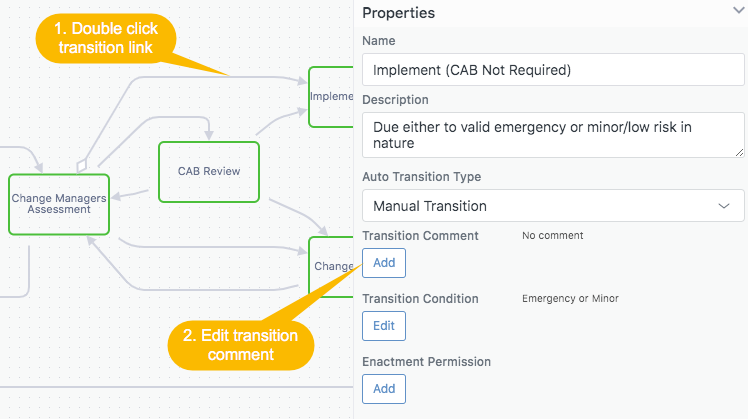 When a workflow transitions from one activity to the next, a comment can be added to the ticket. At the point that the agent selects the transition from the ticket sidebar app, any defined transition comment will be added to the ticket. This comment can then be edited prior to the ticket submission. It is at ticket submission that the transition will occur. Because the comment can be edited, it is often useful to define the transition comment such that the agent can fill in gaps or placeholders with details specific to the ticket.
The start transition (from the start shape to the first activity) does not allow a comment to be defined since the ticket is not under workflow control at this point (and in fact it could be assigned automatically) and there will not be an opportunity to fill out the comment.
To edit the transition comment, double click the transition link and then edit the transition comment in the property panel that appears on the right of the screen. Click anywhere on the diagram outside of the property editor to close it. A modal will be displayed in which the comment can be defined.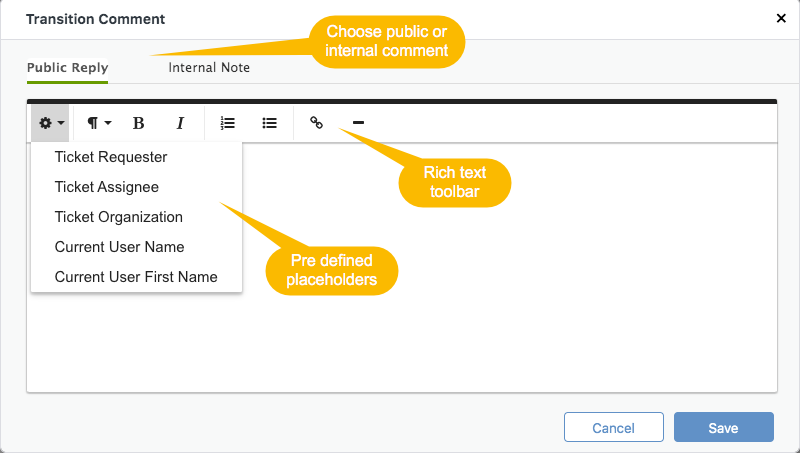 The comment editor modal allows you to choose whether the comment should be a 'Public Reply' or an 'Internal Note'. Select the tab as appropriate.
The toolbar provides a set of rich text options that can be used to create the comment. Toolbar options are
Ticket placeholders - these will insert snippets into the comment that Zendesk will replace when the ticket is submitted.
Paragraph style
Bold
Italic
Numbered List
Bulleted List
A Link (URL)
Horizontal Line (Separator)