Edit activity pre conditions
To edit activity pre conditions, double click the activity shape and edit the pre conditions from the properties panel.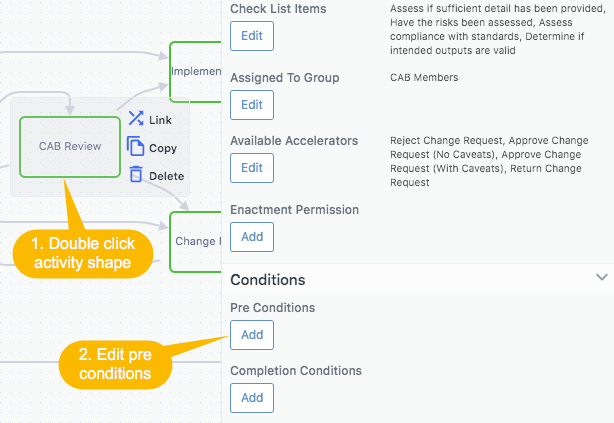 Activity pre conditions are conditions that must be satisfied in order that this activity can be started on the ticket. When moving from one activity to the next in a workflow, you will not be able to transition to an activity if it's pre conditions are not satisfied. These conditions apply to the activity, regardless of how you are transitioning to the activity. For example, if the activity is concerned with collating a knowledge base from questions sent in on tickets, you may want a pre condition that the ticket type is set to question.
You can define transition conditions separately which control whether a transition can occur (see Transition Conditions).
Double click the activity shape and then click the add (or edit if pre conditions already exist) button to edit the pre conditions for the activity. See Editing Conditions for details of how to define conditions.